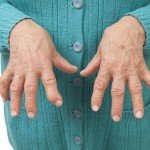 (NaturalHealth365) Rheumatoid arthritis is a joint-devastating autoimmune disease that affects over 2 million Americans today. While conventional treatments limit themselves to surgeries and strong pharmaceutical drugs, many of which come with black box warnings, well-researched natural remedies for rheumatoid arthritis effectively immunomodulate – without the negative side effects of toxic drug therapies.
Anti-inflammatory power of krill and fish oil together
EPA and DHA are the essential inflammation-fighting building blocks derived from fish and krill oil. Studies support that a combination of both fight inflammation better than only using one or the other. Over 50 percent of rheumatoid patients in one study reported a reduction in pain after using both for only three months.
You may be wondering, 'are there any natural COX-2 inhibitors?'  The short answer is yes.  Natural COX-2 inhibiting compounds reduce the inflammation-causing effects prostaglandins and cytokines are responsible for.
Turmeric, one of my favorite inflammation-fighters has been shown in numerous studies to halt COX-2 expression and arrest degenerative changes in bone and joints. As a result of the COX-2 inhibiting effects of turmeric, patients report analgesic effectiveness as well.
Boswellia, feverfew and rosemary are just a few of the other COX-2 inhibiting herbs that studies have shown to reduce the damaging effects of inflammation. Literature supports that standardized extracts of these compounds elicit the most therapeutic advantage when compared to samples of whole plants.
Vitamin D3 is essential for blasting inflammation and protecting against it
Compared to a control group, arthritic participants who used a combination of vitamin D3and an anti-rheumatic drug therapy over three months reported higher pain relief.
Other studies show that vitamin D3 helps to "quiet" rheumatoid arthritis signs and symptoms by modulating T-reg cells – T-reg cells can be overactive in autoimmune disease states such as rheumatoid. In addition, vitamin D3 helps to enhance the level of helpful T-reg cells to balance this response. To test your vitamin D levels, ask your provider to perform D-25 hydroxy blood test.
Editor's note:  The NaturalHealth365 Store offers a high-quality, vitamin D/K2 nutritional supplement to help support healthy immune function.
Look for food sensitivities and harness the power of food therapy
Along with targeted natural remedies for rheumatoid arthritis, certain foods elicit therapeutic effects that help fight the inflammatory process associated with rheumatoid. Before determining which foods are best for you, follow these steps:
Eliminate any processed and packaged foods- especially those containing preservatives and sugar.
Consider eliminating most grains.
Choose pesticide and GMO-free foods.
Discover food allergies. Almost all of my rheumatoid patients experiences sensitivities togluten, night-shade vegetables and other grains. Consult your integrative health practitioner to assist in comprehensive allergy testing.
The connection between emotional issues and systemic infections
In my clinical practice, it's not uncommon that I discover many rheumatoid patients who experienced emotional trauma as children or sometimes young adults and during that time an infectious process took place, almost flu-like, most report. If you experience rheumatoid arthritis, consider discussing this possibility with your integrative healthcare provider to help lead your healing in an even more empowering, immune-enhancing direction.
About the author: Christine M. Dionese L.Ac, MSTOM is an integrative health expert, medical journalist and food writer. She's dedicated her career to helping others understand the science of happiness and its powerful effects on everyday human health. Christine practices, writes and speaks on environmental functional medicine, personalized medicine and epigenetics, food science and sustainable living.
References:
http://www.cdc.gov/mmwr/preview/mmwrhtml/mm5939a1.htm?s_cid=mm5939a1_w
http://www.ncbi.nlm.nih.gov/pubmed/17353582
http://www.ncbi.nlm.nih.gov/pmc/articles/PMC2860736
http://www.ncbi.nlm.nih.gov/pubmed/15157000
http://www.ncbi.nlm.nih.gov/pubmed/16008121
http://www.ncbi.nlm.nih.gov/pubmed/16008121
http://www.ncbi.nlm.nih.gov/pubmed/22004229
http://www.ncbi.nlm.nih.gov/pubmed/22044285