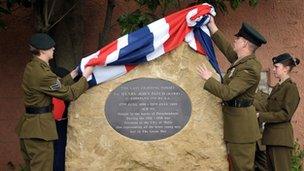 A £10,000 stone memorial has been unveiled in Somerset in tribute to Harry Patch, the last British survivor of the World War I trenches.
The 6ft (2m) memorial to the last fighting Tommy was unveiled on the lawn of Wells Cathedral.
Mr Patch was conscripted into the Duke of Cornwall's Light Infantry at the age of 18 and fought in the battle of Passchendaele in 1917.
He lived in Wells and died on 25 July 2009 aged 111.
The 6 Rifles Band and Bugles played on the Cathedral Green for the unveiling.
Alan Williams from Shepton Mallet, a friend of Mr Patch's, launched the bid earlier this year for the memorial, which is made of Doulting Stone.
Speaking ahead of the ceremony, he said: "Being Doulting Stone - the west facade of the cathedral is Doulting Stone so it works well together.
"It'll be recessed with a beautiful piece of Welsh slate, with some carefully chosen words - 217 letters in total.
"The letters cover Harry Patch as the spokesman but also the lost generation, which is also very important."